CELLBANKER® Series
Cryopreservation Solution for Cells and Tissues
CELLBANKER® is a series of easy to use cell freezing medium with completed formulation. Different varieties of lineup with unique formula allow CELLBANKER® successfully cryopreserve the most of mammalian cell, even with the sensitive or delicate one. More cell recovery possessing high growth activity with CELLBANKER® series cryopreservation medium enable you to put more concentration on your post-thaw studies.
"STEM-CELLBANKER" cryopreservation medium has been registered in MF within PMDA and BBMF within CBER (Center for Biological Evaluation and Research)/FDA (the U.S. Food and Drug Administration).
Discover the advantages of our "Safe and Save" CELLBANKER® series:

Consistent and high cell viability (>90% for most of the cell lines)
Ready-to-use formulation with simple protocol.
No messy mixing work of home-made preparation.
No programmed freezer or liquid nitrogen tank required.
Long shelf life

80% of the current Japanese market have chosen CELLBANKER® for their cell cryopreservation. The greastest differents between CELLBANKER® and other conventional freezing medium are

direct freezing at -80 degree Celsius
allow long term cell storage for more than 10 years in -80 or -196°C.
Ready and easy to use without messy mixing of DMSO and dilution works.
See all CELLBANKER® Cryopreservation Solution products
STEM-CELLBANKER®
 GMP grade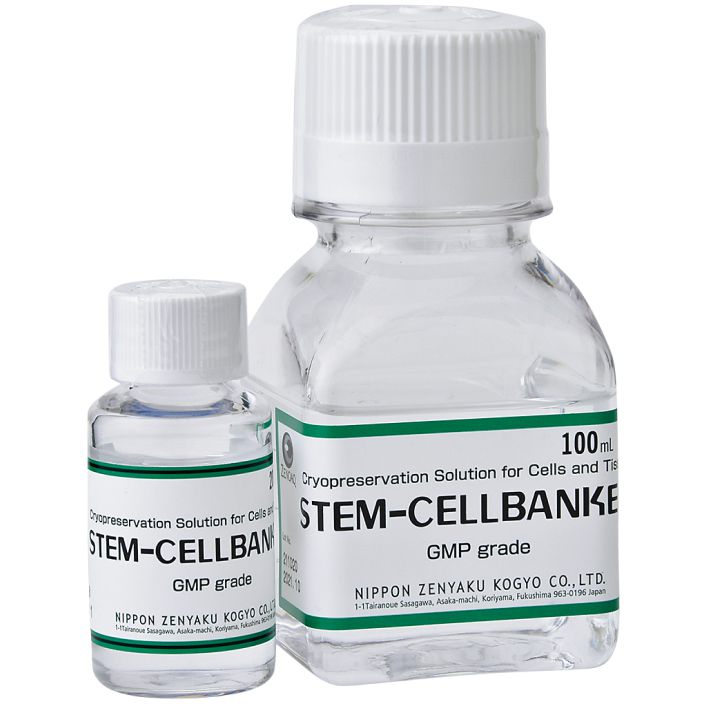 New released chemically defined freezing solution for cells and tissues in compliance with Good Manufacturing Practice (GMP). Has proven record of successful freeze-thaw cycles over Embryonic and messenchymal stem cells, Marrow/ UCB derived stem cells, and iPS cells and other valuable cell,...
STEM-CELLBANKER®
DMSO Free
GMP grade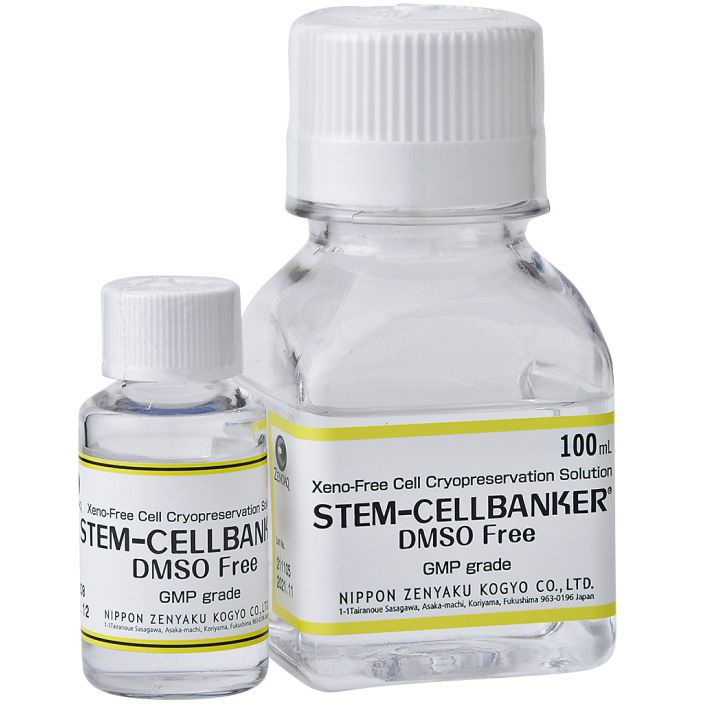 STEM-CELLBANKER® DMSO Free GMP grade does not contain DMSO as an anti-freezing agent. It was developed for customers who do not prefer to use DMSO-containing cryopreservation solution due to a variety of their intended uses. The range of choices for a user is extended with a series of CELLBANKERs.
NEW

STEM-CELLBANKER®
EX GMP grade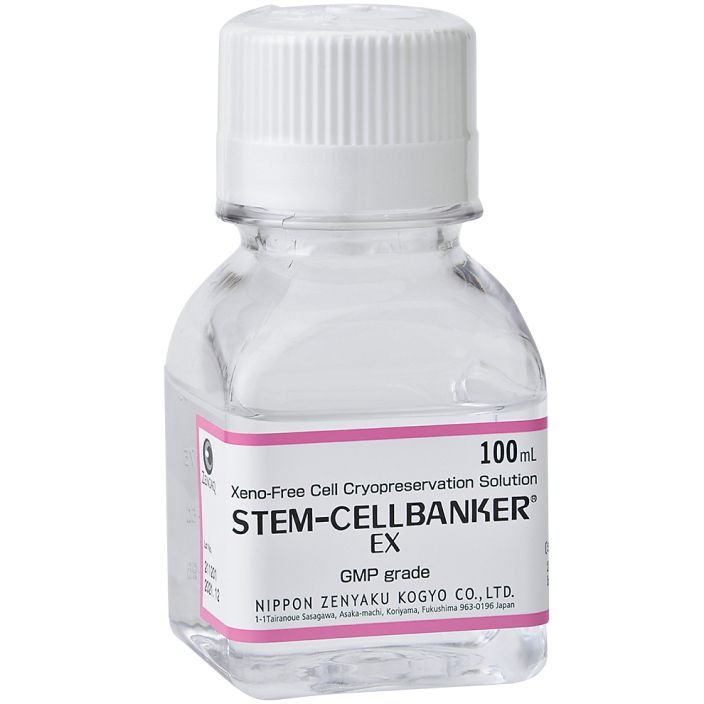 STEM-CELLBANKER® EX GMP grade (SCB EX) is a DMSO-type cryopreservation solution that does not contain serum or animal-derived components (Xeno-Free) and uses proven ingredients for intravenous injection. SCB EX can preserve human adipocyte-derived stromal/stem cells and human hematopoietic stem cells. The composition of SCB EX is the same as HSC-BANKER® GMP grade.
HSC-BANKER®
GMP grade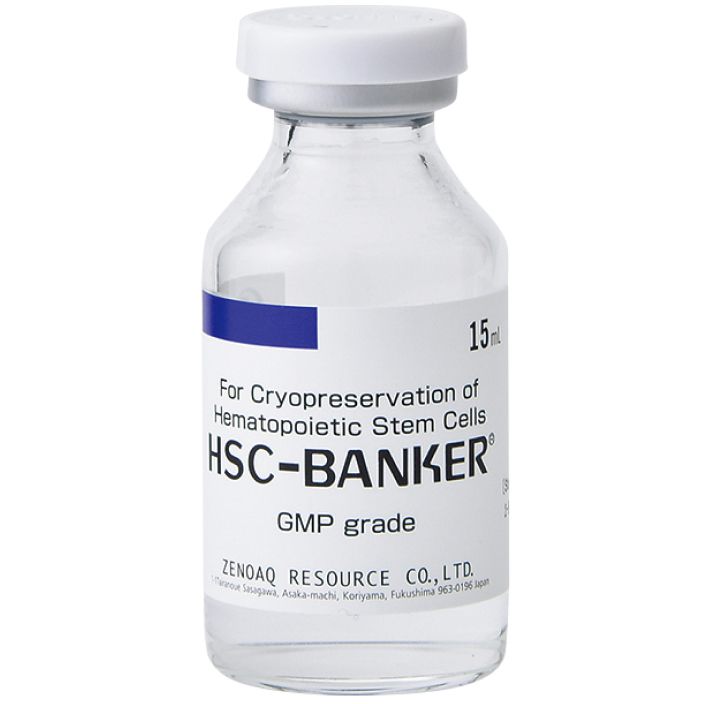 HSC-BANKER®GMP grade is cryopreservation medium for hematopoietic stem cell. It is ready to use product, and manufactured in the facility which is compliance with cGMP, EU-GMP,JP-GMP and PIC/S GMP guideline.
CELLBANKER® 1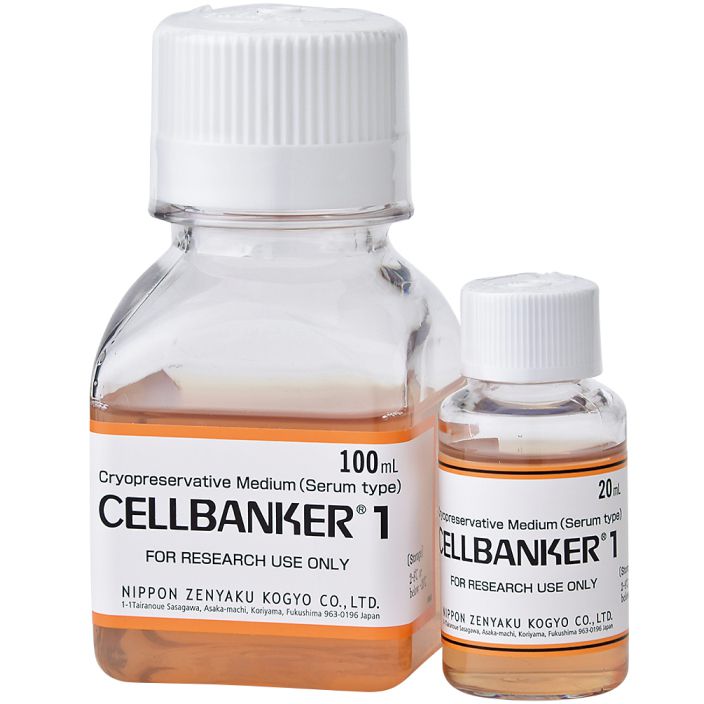 The first product of CELLBANKER® series launched in 1991. Long history with realiable, consistent and high viability make it the best selling product cell freezing medium in Japan. Contains serum, DMSO, glucose, salts, pH adjustors and others...
CELLBANKER® 2
Serum free cell freezing medium allows cell cryopreservation directly at -80℃ without Programmable Freezer. Contains no animal derived proteins minimizes the contamination risk of viral particles, mycoplasma and others. High performance with increased viability...
CELLOTION® Cell Wash and Recovery Solution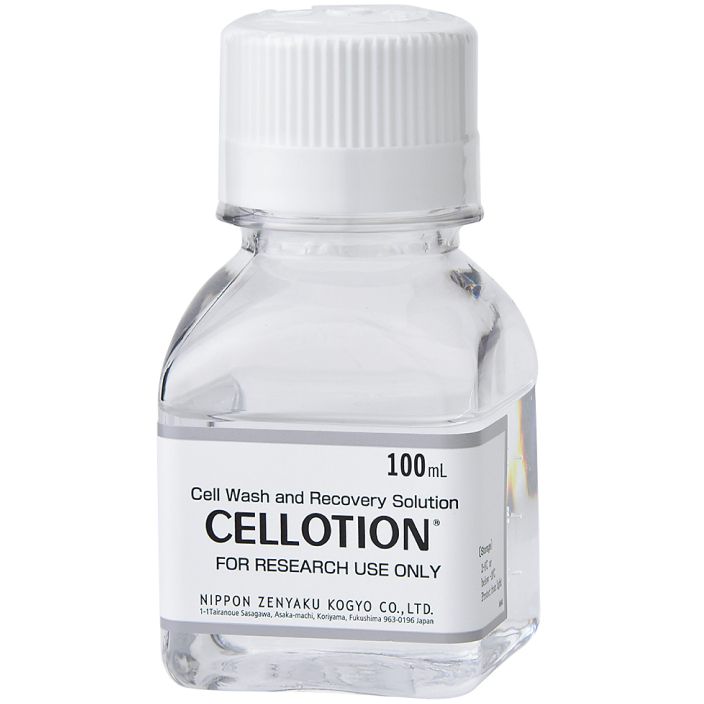 Cell wash solution helps to increase cell recovery with unique formulation. Chemically defined solution contains no serum, proteins and sugars. Help you to recover more cells reducing the loss of cell during wahsing procedures.